Nothing escapes him; everything is illuminated…. Highly recommended. Kooser excels at the brief, imagistic poem. Each short, vivid poem on the page reads as if it were being spoken aloud. Details about cemeteries, dictionaries, a doctor's waiting room, and a jar of buttons bristle with sound and awareness.
Kooser's ability to use brief lyrics to compose a music of discovery and regeneration makes his work radiant and consuming This is not an extended, complex or experimental kind of writing, but poetry that rings true, allowing the human sound of being to exist on the page. He is an exquisite miniaturist of daily life.
reading from delights and shadows
Metaphors are the treasure of these short, imagistic poems, emphasizing the wonder and delight latent in what is often merely taken for granted. He is the author of ten books of poems, including the collaboration with Jim Harrison, Braided Creek: A Conversation in Poetry isbn A quietly brilliant collection. With few exceptions, each poem has just the right David Wagoner. Search and Rescue. Michael Chitwood.
Flood Song. Sherwin Bitsui. Tom Gay. Practicing to Walk Like a Heron. Jack Ridl. A Hotel Lobby at the Edge of the World. Adam Clay. Space, In Chains.
Join Kobo & start eReading today
Laura Kasischke. The World Is on Fire. It's Strange Here. JL Schneider. Point No Point. Jane Munro. Ron Houchin. Inge Logenburg Kyler. Poems Where We Are. The Dream of Reason. Jenny George. Rival Gardens. Connie Wanek. The Bad Secret. Judith Harris. Little Stranger. Lisa Olstein.
Download e-book Delights & Shadows!
Youre Fifty-Now What?: Investing for the Second Half of Your Life.
Markets And Equity in Education?
Related products.
We Almost Disappear. David Bottoms. What We Take With Us. Susan Dworski Nusbaum. Armored Hearts. Places to Enter. Nancy Ellingson.
Route 66 and Its Sorrows. Carolyn Miller. Corinna McClanahan Schroeder. Pacific Walkers. Nance van Van Winckel. Earth, Grass, Trees and Stone.
Missouri Press Association
Mary Anne Morefield. Remember Us to Seasons. Quiet Lives. David Cope. First Kingdoms. Ken Lauter. Anybody: Poems. Ari Banias. Seventy Three Summers.
James L. The Hundred Grasses. Leila Wilson. Randall Potts. The Bones of His Being. Sue Chenette. On the Bridge. Richard Hugo.
nombsinmaibur.ga
NPR Choice page
Where Now: New and Selected Poems. Otherworld, Underworld, Prayer Porch. Bone Willows. James Engelhardt. Portrait of the Artist as a White Pig. Jane Gentry. Seasons' Medley. Grace Olson. Earth Again. Chris Dombrowski. Galaxie Wagon. Darnell Arnoult. Place Called Maine. Wesley McNair. Elizabeth Seydel Morgan. Geraldine Connolly. Hungry Moon. Henrietta Goodman. Conrad Hilberry. The Door That Always Opens. Julie Funderburk. That Kind of Happy. Maggie Dietz. Terror Trackers. Charmaine Cadeau.
Delights & Shadows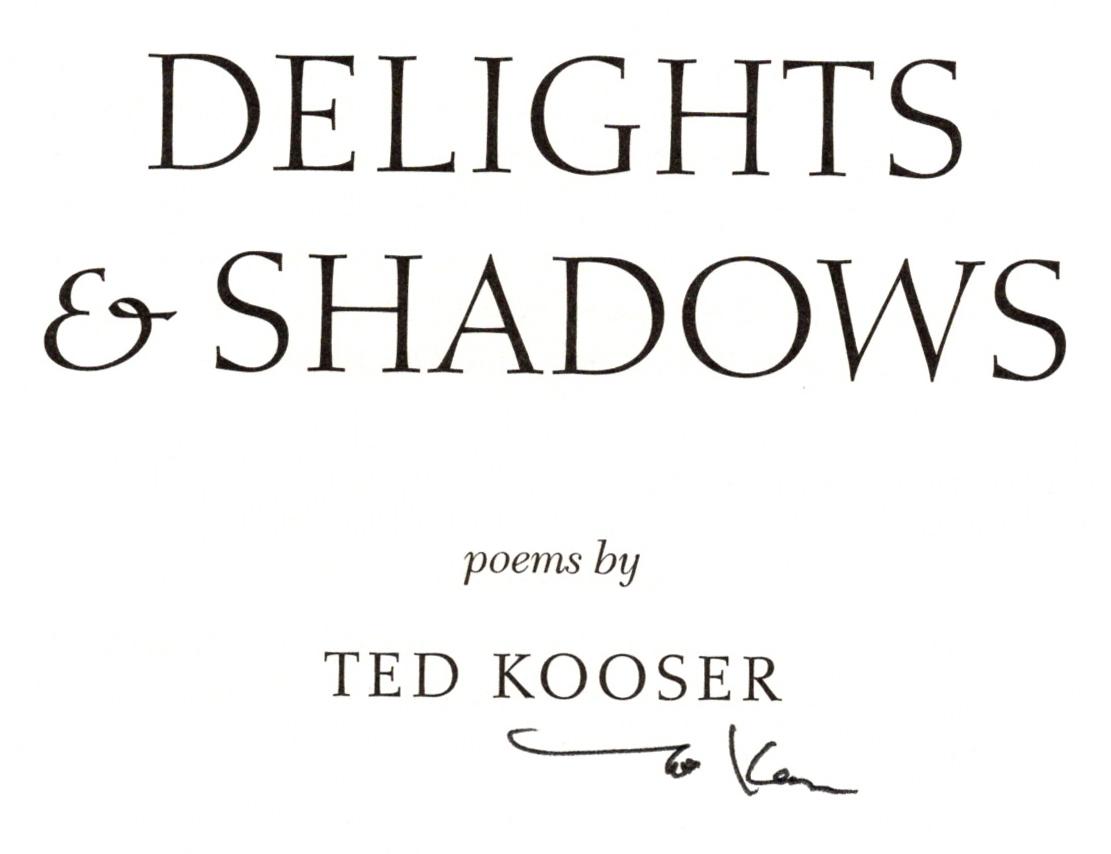 Delights & Shadows
Delights & Shadows
Delights & Shadows
Delights & Shadows
---
Copyright 2019 - All Right Reserved
---